A more natural tasting 0% yogurt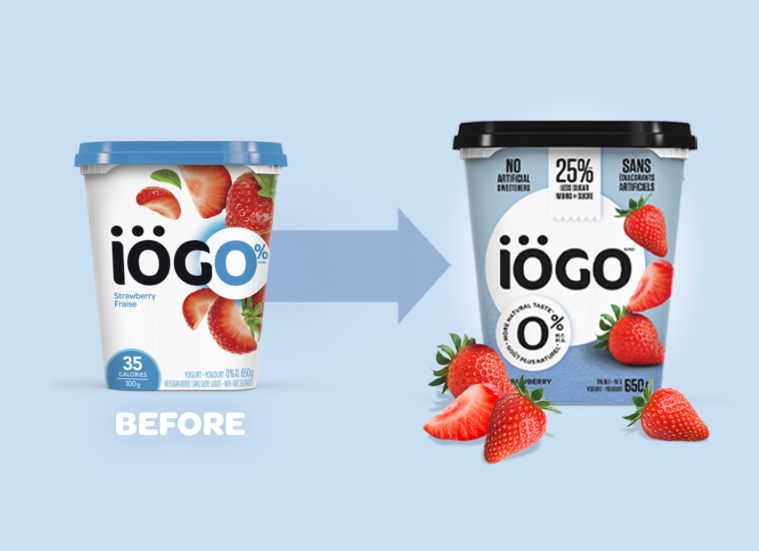 The new recipe for our iögo 0% yogurts will make you forget everything you've ever known about fat-free yogurts. From the taste and texture to the composition and nutritional value, we updated everything! This is what you can expect now:
Goodbye artificial sweeteners! 
Artificial sweeteners have been a hot topic in recent years. Their big advantage is that they add a sweet taste to food without adding calories. But there's also a drawback: these synthetic substances also add a slightly bitter or other aftertaste that disturbs the taste buds. From a health perspective, studies contradict one another about their potential effects. Nevertheless, professionals agree that more natural ingredients are always a better choice.
For all of these good reasons, we've completely eliminated artificial sweeteners from our fat-free yogurts. Instead, we've added a touch of cane sugar and included pieces of real fruit. Finally, like all of our iögo yogurts, our 0% line contains no artificial colours or flavours.
A most pleasant taste and texture
For a long time, fat-free yogurts have been lacking in taste and texture. That's now a thing of the past! Our new recipe delivers a completely authentic taste thanks to the substitution of artificial sweeteners with a touch of cane sugar, in addition to the presence of real fruit pieces. And the fact that we only use fresh, 100% Canadian milk is another guarantee of quality. As for the texture, it's smooth and truly enjoyable – and always gelatin-free.
In short, we're proud to say that that the new recipe for our iögo 0% line provides absolutely everything you'd expect from a good yogurt: simple ingredients, a smooth texture and an authentic taste. All the good things you've been looking for, without the fat!
So good, it makes you feel good.