Our employees
The talents of our employees are our most important ingredient. We're looking for committed people who are ready to work hard for the cause of better milk and a better world. In return, we offer a stimulating work environment where they can develop and apply their talents.
At Agropur, we are all employees, as our farmer members are the owners.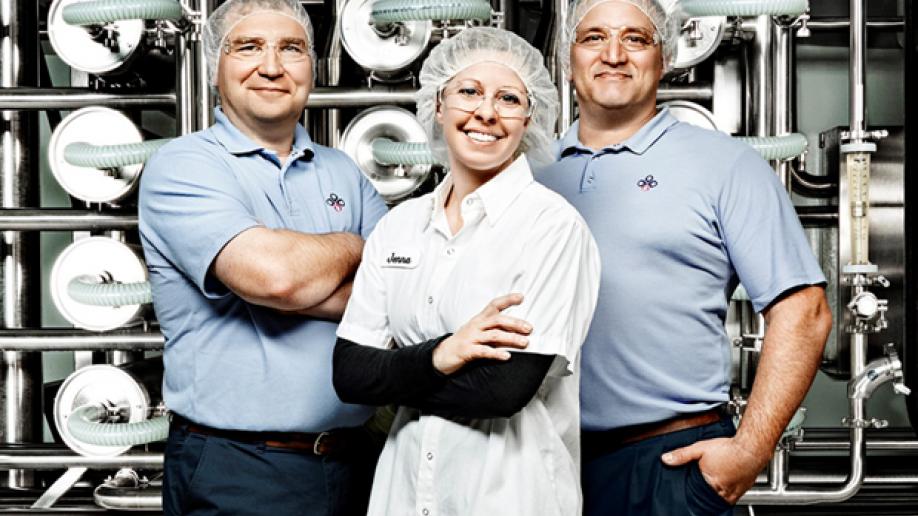 And we know that our employees' talents are our most important ingredient.
All of our 8,800 employees in Canada and the United States are engaged in the same mission: contributing to the Cooperative's success by offering a wide range of dairy products and strong brands that satisfy the demands of our customers and consumers. Our employees proudly produce healthy, authentic products whose excellence is continuously enhanced through the process of innovation.
Our objective is clear: We want to attract and retain the best talent.
Our employees are the most important ingredient in our recipe for success. We offer them a stimulating work environment that lets them develop to their full potential, whether at the Cooperative's head office or at our 39 processing and distribution facilities across North America. Our strength is the diversity of our talented work force, which combines young employees with seasoned hands.
Choosing to work at Agropur means:
Choosing a meaningful future: Our organization is a leader in its industry and is growing rapidly. Agropur offers long-term jobs with opportunities for advancement. We have many employees who have been working for us for over 30 years. That's because we provide our employees with continuing training along with development and succession plans based on performance and potential. At Agropur, our employees grow along with our organization.
Setting yourself challenges commensurate with your talents: Our organizational culture, values and management style have made us a financially sound, forward-looking business. We are an industry leader. Our growth is steady, healthy and aimed at the long term, which lets us offer you a work environment where you can develop your talents. We are one of the largest dairy processors in the world. To remain a significant player, we test our limits every day.
As an employer of choice, we take care of our employees and offer them attractive salaries along with a wide range of benefits. Choosing Agropur means making a great life choice!
If you have the talent, we have the opportunities! To see our current openings, please visit the Careers section of this website.