IÖGO is releasing its new fruit on the bottom line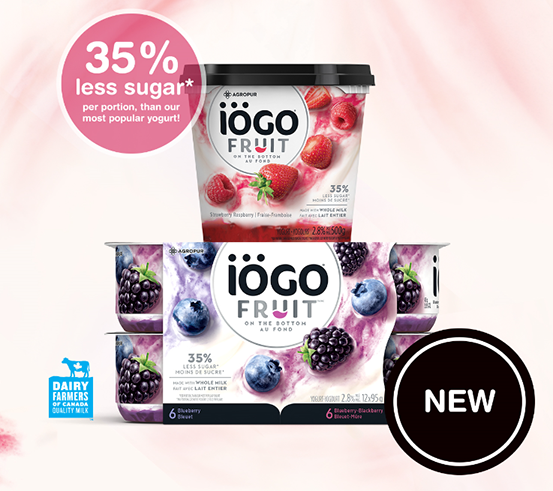 IÖGO will energize the yogurt world with the national launch of an innovative and unique line of seven new products, consisting of a creamy plain yogurt made with whole milk over a delicious layer of real fruit. With 35% less sugar than our most popular yogurt, it becomes the lowest-sugar yogurt line in its category.
By focusing on the development of new consumption opportunities, this launch meshes perfectly with the strategy for the brand, which is positioned as bold and unique.
The line will come in seven exciting flavours (Mandarin Orange, Mango-Pineapple, Blueberry, Blueberry-Blackberry, Strawberry-Rhubarb, Strawberry-Raspberry, Lemon and Apple Pie), in transparent packages that let you see the fruit at the bottom. The available formats will include three 12-packs containing small cups in two different flavours, and four 500‑gram cups.
Join us to celebrate the success of this great Canadian!