Serge Riendeau receives Adélard-Godbout Award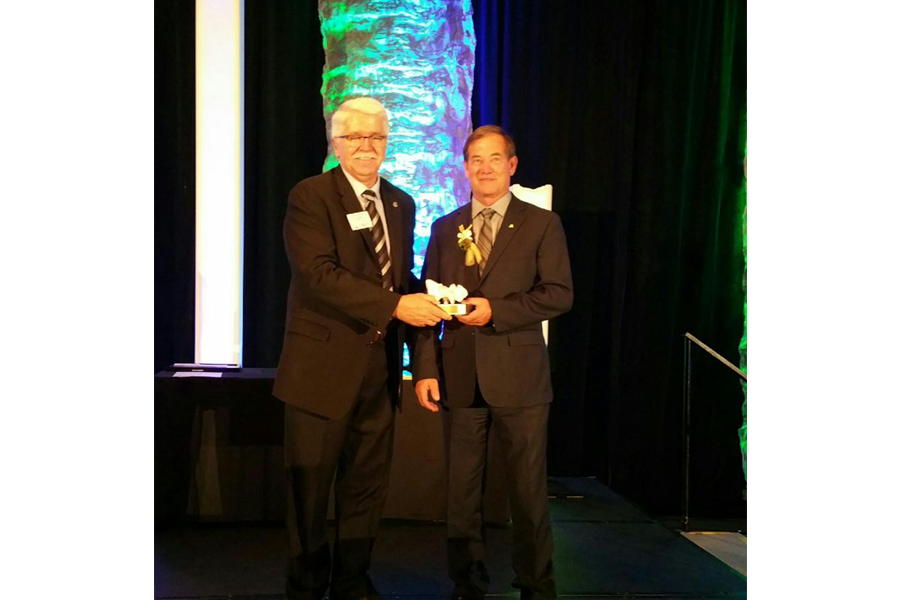 The Quebec order of agronomists recognizes our ex-president's outstanding contribution to the agri-food industry.
At a tribute evening held on the sidelines of the Quebec order of agronomists' convention on September 21, former Agropur president Serge Riendeau was presented with the Adélard-Godbout Award.
During his 26-year career with Agropur, including 15 as president, Serge Riendeau played a central role in the organization's achievements.
His vision and leadership were instrumental in Agropur's development, its dramatic growth and its productive relationships with its members, employees and partners.
Serge Riendeau was a leading figure in the dairy industry, devoting his efforts to keeping processing assets in the hands of producers in order to give them collective control over their own future. He always looked to the future with confidence.
During Serge Riendeau's tenure as president (2002-2017), Agropur's annual sales surged from $1.8 billion to $6 billion, making it the largest dairy co-op in Canada. Today it is also one of the top 5 dairy processors in North America and one of the 20 largest dairy companies in the world.
In view of these outstanding accomplishments, the order or agronomists presented Serge Riendeau with the Adélard-Godbout Award of Merit, which recognizes an exceptional contribution by a non-agronomical company, organization, individual or group of individuals to the development of agriculture, agronomy or the agri-food industry in Quebec. It is awarded for a specific deed or achievement. It is named after Joseph-Adélard Godbout, agronomist and statesman, who served as premier of Quebec in 1936 and from 1939 to 1944.