Ukrainian delegation visits Saint-Hyacinthe plant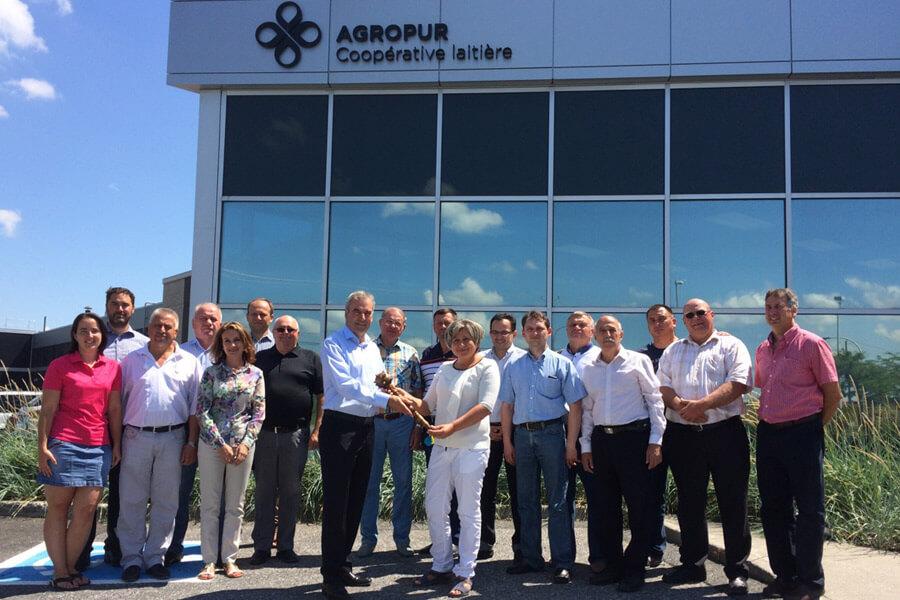 On August 3, Agropur played host to a Ukrainian delegation of cooperants, representatives of the agricultural sector and government officials.
Agropur Vice-President René Moreau (front, centre) accepts a bulawa from Mariy Savka, director of the agriculture department of Ivano-Frankivsk province in Ukraine. The gift was a token of thanks for Agropur management's hospitality and Agropur's leading role in the SOCODEVI dairy project. Mr. Moreau and Ms. Savka are surrounded by other members of the Ukrainian delegation and some of the Agropur members and employees who helped make their visit a success. Quality Control Manager Cinthya Côté and Production Manager Patrick Remillard (left) led the tour of the Saint-Hyacinthe plant's processing facilities. Jean Filiatrault (2nd from right), member of Agropur's Board of Directors and dairy producer from Sainte-Christine in the Montérégie region, and Gaétan Jodoin (7th from left), former member of Agropur's Board of Directors and President of the SOCODEVI Foundation, were also on hand.
The visit was part of a large-scale SOCODEVI-supported plan to improve the Ukrainian dairy industry's competitiveness. Agropur has been involved in the project since 2009.
As a co-op's internal organization is a key factor in its overall performance, there was also extensive discussion of the Board's role in setting Agropur's direction, the operation of democracy within Agropur and associational life, following a presentation by Simon Robert, Director of Member Relations.