Agropur wins two Mercuriades award!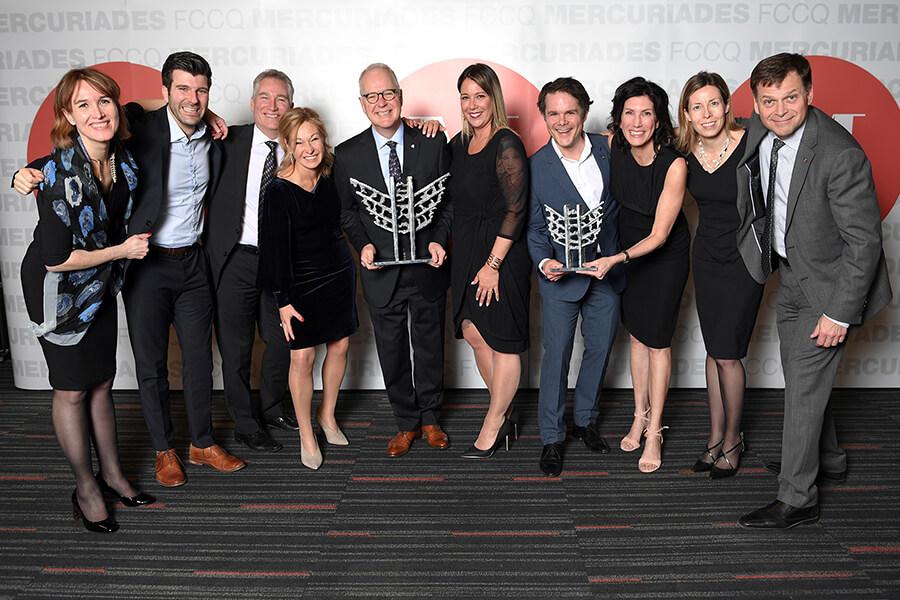 The winners of the 38th annual Mercuriades business competition, organized by the Fédération des chambres de commerce du Québec, were announced last night at Montreal's Palais des congrès. Seventy-six finalists were in the running for a Mercure award.
Agropur took the most coveted award, Business of the Year (Large Business), which honours general excellence or an exceptional success by a Quebec business. As the winner, Agropur automatically joins the Mercuriades Club of Excellence.
Agropur also picked up the Mercure for Successful Business Strategy, which recognizes a growth strategy designed to enable a business to achieve its full potential. The growth must be part of a well-considered business plan and geared to ensure the organization's sustainability in the long term.
The Mercuriades jury noted that Agropur's winning business strategy, based on five key pillars, has yielded excellent results. OKA is the fastest-growing fine cheese brand in Quebec, Natrel is the number 1 brand in the country, and iögo is growing twice as fast as the market. In 2017, Agropur was rated Canada's most trusted dairy brand for the third consecutive year.
As well, Agropur's international Inno Challenge competition and its internal innovation program have made it a leader in the development of new dairy products. The jury also observed that in the wake of Agropur's recent acquisitions, it has the most complete national offering of any major Quebec-based player.
Agropur CEO Robert Coallier accepted the two awards on behalf of the organization.
The Mercuriades competition was created in 1981 to celebrate innovation, ambition, entrepreneurship and performance in Quebec business. Dominique Anglade, Deputy Premier, Minister of Economy, Science and Innovation, and Minister responsible for the Digital Strategy, and François Blais, Minister of Employment and Social Solidarity, were in attendance at the awards ceremony.