Agropur au salon Grocery and Specialty foods West les 4 et 5 avril derniers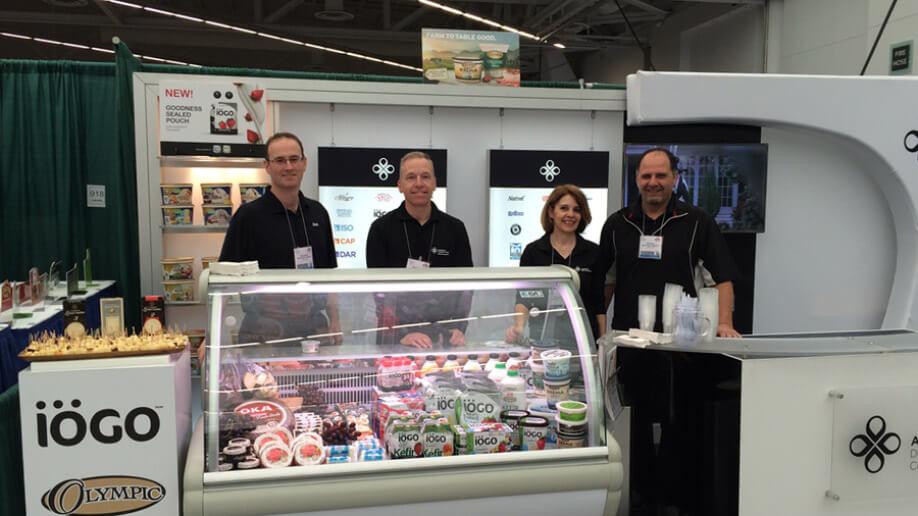 L'équipe des ventes représentant nos principales marques était présente pour faire déguster aux délégués du salon nos nouveautés dans les catégories fromage, yogourt et crème glacée.
Les 4 et 5 avril derniers, Agropur prenait part au salon Grocery and Specialty Foods West à Vancouver où plus de 300 autres fournisseurs importants dans l'industrie alimentaire étaient réunis. Plus de 3000 visiteurs ont franchi les portes pour découvrir les nouveaux produits qui leur étaient offerts. De son côté, Agropur présentait ses nouveautés avec sa gamme de Kefir biologique Olympique ainsi que les Kefir pro bio de iögo 190 ml, à la saveur de mangue et saveur de fraise. La marque de crème glacée Island Farms lançait au même moment trois nouvelles saveurs : macarons à la noix de coco, beurre d'arachides croquant et caramel et tarte au citron et bleuet.
Une dégustation des fromages l'Artisan fumée, Brie Connaisseur, OKA régulier ainsi que du Chèvre noir ont fait le bonheur des gens présents!