Innovative biPro protein water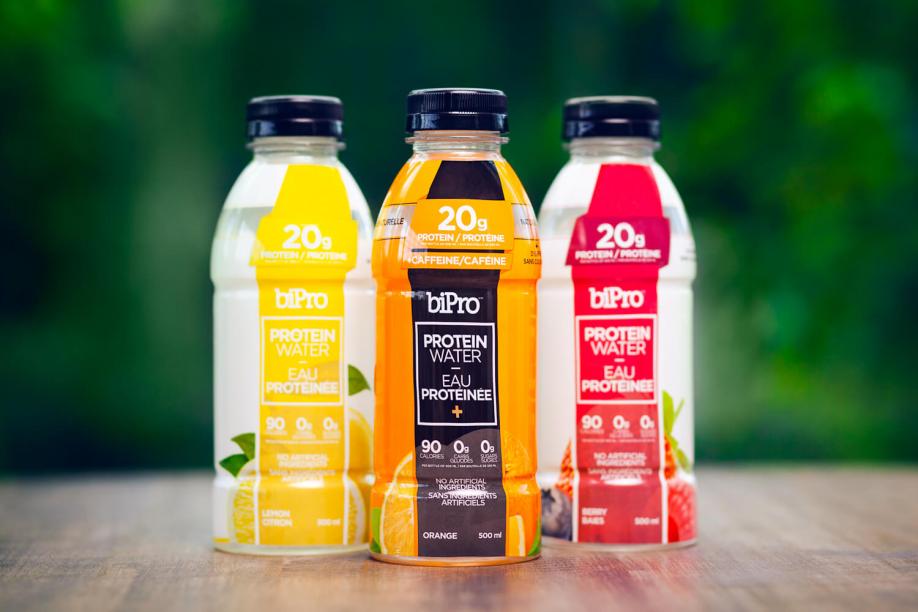 Just in time for summer, Agropur Cooperative's biPro brand is expanding its line of sports nutrition drinks with the addition of natural protein water, containing 20 grams of protein per 500 mL bottle. Available in three flavours – lemon, berry and orange – biPro protein water is the ideal snack for young professionals and athletes alike.
Made with a short list of all-natural ingredients, biPro protein water stands apart from the competition: it contains no lactose, no sugar-and 90 calories per bottle. The great-tasting product refreshes and quenches the thirst as effectively as plain water. It hits the spot at any time of day: to relieve those mid-afternoon hunger pangs, to complement a light meal, or as a snack before, during or after physical exercise.
It's the new way to get your shot of protein – without the unwanted calories in some other dairy-based high-protein beverages. In addition to its 20 grams of protein, each bottle of biPro orange protein water contains 100 mg of natural caffeine derived from guarana extract, the equivalent of a medium cup of coffee.
Many elite athletes drink biPro protein water and several serve as ambassadors for the brand. Our ambassadors were chosen for the way they go to the limit and exemplify excellence in their disciplines. Those are qualities biPro prizes as a brand dedicated to improving performance by providing innovative, cutting-edge products.
MIKAËL KINGSBURY – Quebec freestyle skier, gold medalist at the 2018 PyeongChang Olympics, holder of the record for most World Cup wins, two-time world champion.
"I drink biPro water mostly when training indoors," says biPro ambassador Mikaël Kingsbury. "During the off-season, I follow an intensive training program to be physically prepared for the next season. That is very important for my performance on the slopes. biPro gives me optimal hydration and the essential proteins for recovery, so it's a big plus for my workout."
BENOÎT HUOT – One of the most successful Canadian Paralympians of all time with 19 swimming medals in the four Paralympic Games before Rio
BRANDON INGRAM – Basketball player with the Los Angeles Lakers of the NBA.
JENNIFER HEIL – Canadian double gold medalist in freestyle skiing (gold in Turin in 2006 and silver in Vancouver in 2010).
biPro protein water sells for $3.49 per unit and is now available at Couche-Tard in Quebec and Circle K in the Atlantic provinces. Soon, there will be available in case of 12 bottles of 500 ml across the country on biproca.com.