Robert Coallier at the Dairy Farmers of Canada conference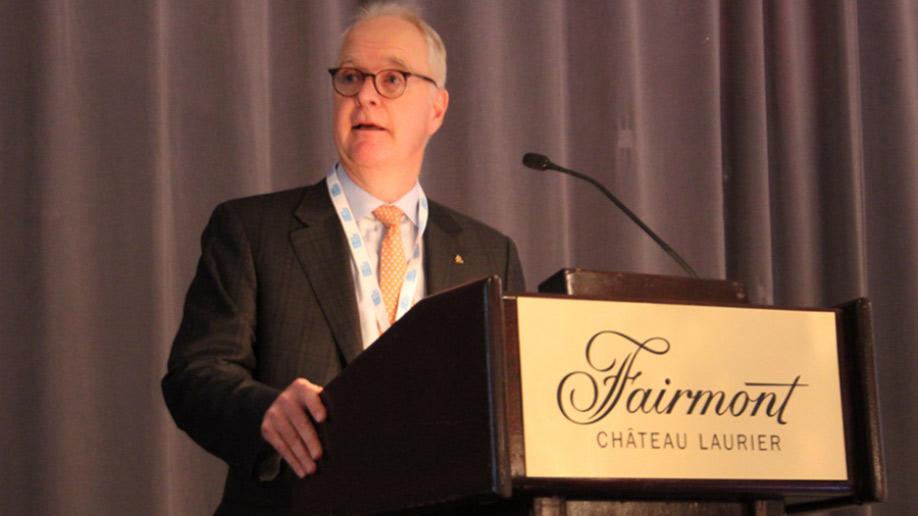 How Agropur is tackling the challenge of sustainable development
Robert Coallier was invited to speak at the Dairy Farmers of Canada conference on November 8. He set out Agropur's sustainable development vision.
Economic development
Agropur doesn't just create wealth, it redistributes wealth. "In the past five years, we have paid out $250 million to our members. All our earnings are returned to our members, unlike other business models, in which that money would end up in investment funds in Toronto, London or New York," Mr. Coallier said. "When people buy an Agropur product, they aren't just getting a dairy product, they're contributing to the rural Canadian economy."
Environmental protection
Agropur has transitioned from a culture of compliance to a culture of environmental responsibility. Among other things, that means excellent governance at the top of the organization. Mr. Coallier pointed to the creation of committees that have had a real impact on operations. The audience was shown pics of some of Agropur's recent initiatives in Burnaby, Granby, Victoria and Beauceville.
Social responsibility
Mr. Coallier then discussed the Cooperative's commitment to quality. He mentioned the new supplier qualification program, which will document compliance with quality requirements and the traceability of the products used.
Lastly, our CEO explained how the Cooperative is transforming itself to meet the needs of the generation that is now coming to the fore, the millennials. They see consuming as a social act, which is very much in line with Agropur's philosophy.