What is the recipe for better dairy?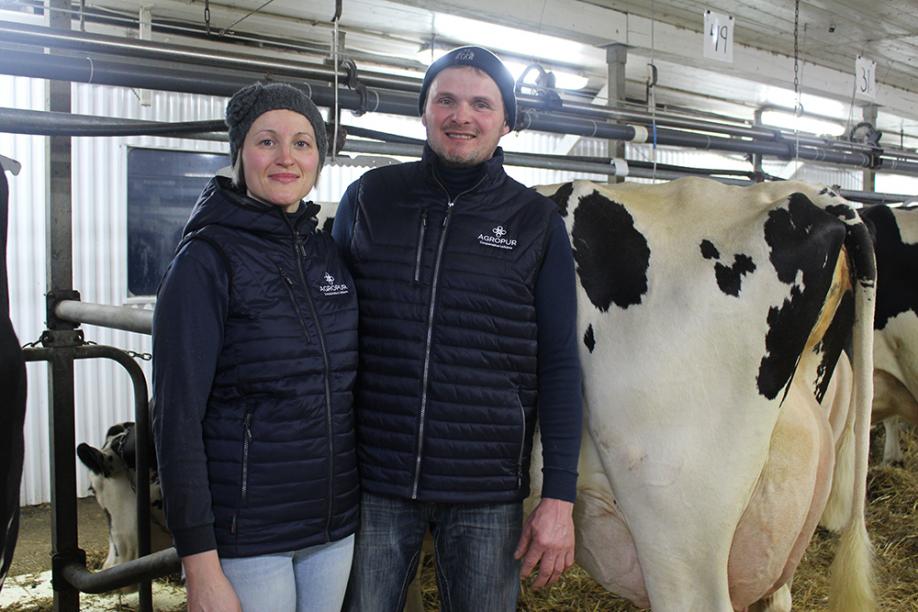 On January 31, Julie Michel and Pierre Guévin received a signal honour: their farm was awarded the title of Grand Champion at Agropur's 31st Club of Excellence gala. We met with two dairy farmers who truly care about the quality of their product.  
In 2009, Julie and Pierre realized their dream by starting a dairy farm. "We both grew up in an agricultural environment and studied agriculture," says Pierre. "Buying a herd was a big accomplishment for us."
Focus on quality
Being named Club of Excellence Grand Champion motivates Julie Michel and Pierre Guévin to continue prioritizing quality. "We've been operating the farm for 11 years now," says Pierre. "We've always worked hard to produce top-quality milk. We didn't do it to win contests. At the end of the day, that's the milk we're drinking too. It's in our nature to want to make a good product."
So, what's their secret?
An ounce of prevention is worth a pound of cure
Prevention is the hallmark of the winning farm. Julie and Pierre are always on the lookout for the slightest sign of infection as they go about their daily work. There is no room for negligence. Cleanliness is the watchword everywhere, from the cooling system to the milking system to the cow stalls. Everything is cleaned and inspected to reduce undesirable bacteria in the barn to the minimum.
"We are very proactive about identifying problems," says Pierre. "Sometimes we do the CMT test [1] for nothing, but I'd rather look into a situation than let it go."
Animal welfare is also a priority for the couple. They believe the quality of the milk depends on the comfort of the animals. The stalls are equipped with mattresses covered with a thick bed of straw for cleanliness and pregnant cows are placed in freestalls two months before calving.
Attention to genetics
From the outset, the owners of Ferme Pierlie have made it a point of honour to hand-pick their animals. "For example, we select bulls that meet very high health standards because they will have a positive influence on our cows' somatic cells," says Pierre.
Their efforts seem to be paying off. Ferme Pierlie has won the regional Milk Quality Club of Excellence title four years running, and now it has taken the grand title among 89 finalists.
Located in Saint-Adelphe-de-Champlain in Quebec's Mauricie region, Ferme Pierlie now has a herd of 90 Holsteins, including 45 milking cows, which produce an average of 11,200 kg of milk per year. Congratulations!
1. The California Mastitis Test (CMT) is used on the farm to quickly detect mammary gland infections.