Agropur Grand Cheddar
Our Agropur Grand Cheddar features among the most acclaimed cheddars in the world. It has won more than 25 awards since it was introduced in 2001, including World's Best Aged Cheddar!
Our master cheesemakers sought to reproduce the authenticity and purity of well-aged cheese. Our distinctive fermentation system lends Agropur Grand Cheddar its aromatic notes, which deepen throughout the natural maturation process over one, two, three and five years. Its unique taste is the culmination of a perfect balance between its distinct hazelnut flavour and smooth texture. With age, the texture becomes crumblier in the mouth. At this point in the ripening process, the bite confirms it has reached full maturity.
In 2016, Agropur Grand Cheddar took first prize at the prestigious British Empire Cheese Show. It was also awarded top honours at the 2017 Sélection Caseus cheese competition (Cheddar category).
Discover Agropur Grand Cheddar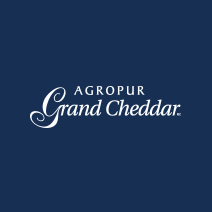 AWARDS AND DISTINCTIONS
2020
1st prize, best of class
Agropur Grand Cheddar 1 year and 3 years
World Championship Cheese Contest
Cheddar
2017
CASEUS Selection - Laureate
Agropur Grand Cheddar 3 years
CASEUS
Cheddar
2016
1st place
Cheddar Medium
British Empire Cheese Show
Medium Marbled Cheddar (3 to 6 months)