Agropur Signature
Underneath every Agropur Signature seal is one of the finest cheeses made in Quebec. L'Extra, Le Connaisseur, Champfleury, Agropur Grand Cheddar, Saint-Paulin, and Chèvre des Alpes have won the hearts of consumers and are now a staple in their daily lives.
We are very proud to have played a part in developing the Canadian fine cheese market. Canada's cheeses have become a jewel in the country's food culture and are now second to none in the world.
Our Champfleury was a gold-medal winner at the 2015 World Cheese Awards and took first prize at the 2015 American Cheese Awards (in the Soft-Ripened Washed Rind Category).
The flavour and texture of Agropur Signature's superior-quality products win over the toughest connoisseurs. They include Camembert, single, double and triple cream Brie, soft-ripened washed rind cheese, Cheddar, goat cheese and other specialities. All these products are carefully prepared by master cheesemakers at our Quebec plants in Saint-Hyacinthe, Saint-Damase, Notre-Dame-du-Bon-Conseil and Oka.
Discover Agropur Signature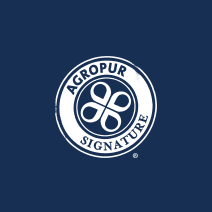 AWARDS AND DISTINCTIONS
2016
1st place
Chevalier Double Cream Brie with pepper
British Empire Cheese Show
Flavored soft cheese
3rd place
Chevalier Double Cream Brie with fine herbs
British Empire Cheese Show
Flavored soft cheese
2nd place
Chevalier Double Cream Brie with basil and tomato
British Empire Cheese Show
Flavored soft cheese
2nd place
Chèvre Noir 1 year
British Empire Cheese Show
Goat milk cheese