OKA
OKA cheese was created in 1893 by Brother Alphonse Juin, a master cheesemaker who had joined the Trappist community in Deux-Montagnes. OKA soon became known for its unique aroma and unforgettable taste.
OKA l'Artisan Smoke is the winner of the best naturally smoked cheese at the Royal Winter Fair 2019 contest.
125 years later, OKA bears a rich cultural legacy that distinguishes it among Canadian cheeses. It is a jewel in our collective heritage, a tangible expression of how ancestral skill is passed down from generation to generation. To this day, Agropur's master cheesemakers make OKA according to the original recipe and age it in the cellars at the Oka cheese plant.
Respect for tradition is one of the key ingredients in our quest to make OKA Canada's signature fine cheese.
Discover OKA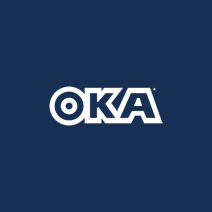 AWARDS AND DISTINCTIONS
2019
Most trusted brand in its category
OKA
BrandSpark Most Trusted Awards
Artisanal Canadian Cheese
2018
CASEUS Selection - Laureate
OKA L'Artisan
CASEUS
Interior-ripened cheese with ripening holes.
2017
CASEUS Selection - Laureate
OKA Brother Alphonse
CASEUS
Semi-firm cheese
CASEUS Selection - Laureate
OKA L'Artisan
CASEUS
Interior-ripened cheese with ripening holes (any type of milk, any size company)
2016
Jury's favorite
OKA Portion packs
CTAQ
Jury's favorite
1st place
OKA L'Artisan
Canadian Cheese Awards
Firm cheese with holes
1st place
OKA L'Artisan
British Empire Cheese Show
Firm cheese
CASEUS Selection -Laureate
OKA L'Artisan
CASEUS
Interior-ripened cheese with ripening holes (any type of milk, any size company)
1st place
OKA L'Artisan Smoke
British Empire Cheese Show
Firm cheese flavored
CASEUS Selection - Laureate
Regular OKA
CASEUS
Semi-soft cheese with a washed, mixed or natural rind