Internship True Story: TJ Jacoby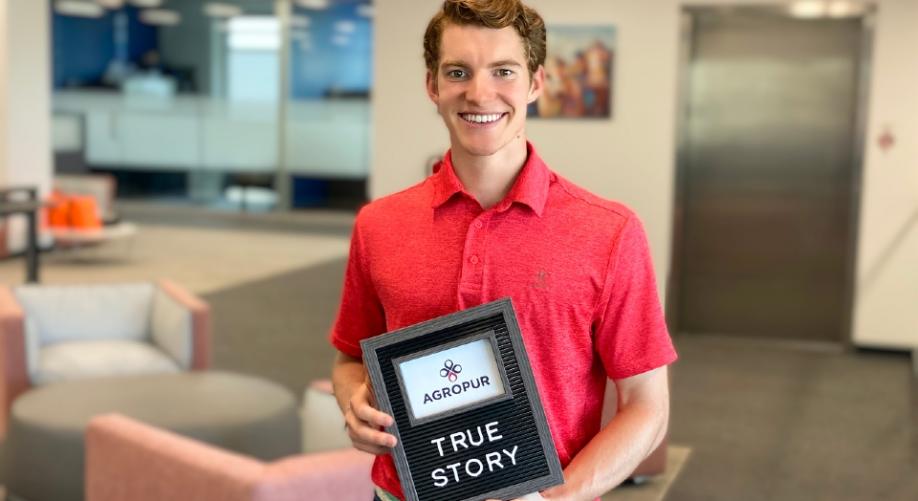 Tell us about where you grew up
Suburbs of St. Louis, MO.
Tell us about where you went to school and what for
I am attending South Dakota State University for a Dairy Manufacturing Major with an emphasis in Microbiology.
Tell us about your internship, how it came about, what it was in, etc.
This is my third internship with Agropur. The first two occurred in Lake Norden, and this year, I am privileged to work at Jerome after an incredible encounter towards the end of my last internship. So here is the story: Lake Norden just completed a plant expansion setting it as the fourth largest in the US. As the whey intern, I was stationed to oversee the startup of the new Sweet Dairy Whey drier. A month into the startup, we discovered a problem with the product feeding the drier and called out a specialist, who leads Agropur's Corporate Technical team to help solve the issue. My manager needed someone to help him through his stay. After spending weeks mapping out the process and uncovering major bottlenecks, we found the cause. Upon my exit interview, I learned my hard work, not only on the project but also in knowledge from my studies, did not go unnoticed. I was offered a position on Agropur's Corporate Technical team this summer at the Jerome location, one of the best whey plants in the world, as the Whey Technical Intern.
What types of things did you work on and how was the working environment?
I have been working directly with Agropur's secret Whey fractionization process. My new boss takes time every day to help take my project to the next level. We are constantly talking about Lean Manufacturing, standardization procedures, leadership philosophy, and how they fit our success criteria. Together, we saved hundreds of thousands of dollars in chemical, heat energy, time savings, water, etc.
Agropur fosters a focused improvement mindset in Lean Manufacturing and its Core Values. Though not perfect, it is apparent this is the direction and focus.
Why do you love Agropur?
They treat me as an equal. I am not an intern that runs to grab coffee for the managers. I am on the plant floor working to help Agropur improve every second. They are willing to take advice from a kid like me and adopt it into their leadership. I truly feel like I'm making a difference.